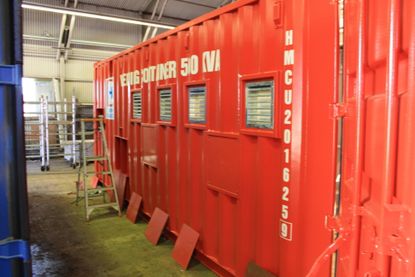 For the Dutch offshore contractor Heerema our head of sales has composed the welding container, suitable for welding and a second container which is for generating electricity. This generating container has also been used on their yard in Angola to provide all facilities with power.
For more information about this type please contact us.
Для голландского оффшорного подрядчика Heerema наш руководитель продаж составил сварочный контейнер, подходящий для сварки, и второй контейнер, предназначенный для производства электроэнергии. Этот генерирующий контейнер также использовался на их дворе в Анголе для обеспечения всех мощностей.

Для получения дополнительной информации об этом типе, пожалуйста, свяжитесь с нами.
بالنسبة للمتعهد الهولندي في الخارج ، هيريما ، قام رئيس قسم المبيعات لدينا بتأليف حاوية اللحام ، وهو مناسب للحام ولحاوية ثانية لتوليد الكهرباء. كما تم استخدام حاوية التوليد هذه في ساحتهم في أنغولا لتزويد جميع المرافق
بالطاقة.

لمزيد من المعلومات حول هذا النوع يرجى الاتصال بنا.

Para el contratista holandés en alta mar, Heerema, nuestro jefe de ventas ha compuesto el contenedor de soldadura, adecuado para soldadura y un segundo contenedor para generar electricidad. Este contenedor generador también se ha utilizado en su patio en Angola para proporcionar energía a todas las instalaciones.

Para más información sobre este tipo contáctenos.